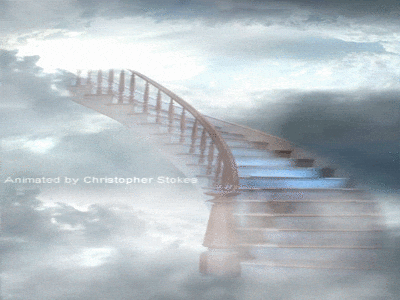 Many will not appreciate what I am about to write.  But, there is encoded into the Hebrew scriptures multiple layers of interpretation.  Many do not accept that, errantly thinking that everything the Jewish people believe is wrong.  Yeshua told a young Jewish Rabbi, "You are not far from the Kingdom of Elohim," when he had a conversation with him about the two greatest commands.  Even a Jewish Rabbi, who was already in error because of manmade doctrine, yet had SOME truth.  When it comes to the pure word of Elohim, our Jewish people do understand some things the rest of the world does not, because of the rest of the [theological] world swinging the pendulum too far away from the Jewish nature of Yeshua.  He IS a Rabbi: the Rabbi of those who walk HIS 'halakha' [how He walks THE TORAH, I Jo 2:6].
So, what do I mean by this title, "Life's Happy Door"?
Let me give you the 'back story' first.  We have studied the Aramaic Peshitta Brit Khadashah [NT] scriptures for the last 10 years.  Having become fluent in Hebrew, it is relatively easy to read the Aramaic texts, since these are sister languages.  These texts have existed since the earliest days, and after having studied them for 10 years, we are convinced they preceded the Greek texts, and the internal evidence of that continues to mount as we study.  One of the biggest evidences of that is the use of the Name, יהוה , in the Aramaic texts.  Had these texts been translated FROM Greek to Aramaic, there would not be such 'surgical' variation in the use of MarYah versus Maran in the place of Greek's 'kurios'.
Another such internal proof is the use of the word "Khesed" versus "Khen."
The greek translators seemed to have changed the word 'khesed' to 'karis' almost every time.  It's simply not the best translation of this word.  This seems to play into the idea that 'grace' is a license to sin [go against the Torah, 1 Jo 3:4] even though Sha'ul specifically said it is not a license to sin [Rom 6:15].  They are replacing 'compassion' with 'grace', many times over.  The 'khesed', or 'compassion' of Elohim is the source of His 'khen', or 'unmerited gift of favor'.  This seems to be left out, virtually, of the greek texts, and hence every English translation rendered from them, and so there is an overuse and abuse of His free gift.  Indeed, many trample on the blood of His Sacrfice by continuing in all manner of sin, not the least of which is forgetting His Sabbath and not keeping it set-apart, thinking that 'grace' frees them from the goodness of keeping His Mitzvot.
Most people who genuinely believe have a 'sense' about the bowels of His compassion, how passionately the Creator loves us; but they don't really grow to understand the depth of His forgiveness for our opposition to Torah and the free gift of His favor, or they would grow in their understanding of His Unity with us, and be compelled to do the things HE said to do, and ONLY those things.  Yeshua, the perfectly expressed image of the Creator, said it: "If you love me, you will keep MY Mitzvot."  Instead, they use 'grace' as an excuse to impose Socratic logic on the texts, relegate these words of Yeshua down to a mamby-pamby excuse that He was not speaking of Torah, but instead, of His own two 'special' and 'new' commands, and they dismiss HIS SABBATH, and dismiss HIS WAY, in order to keep Yeshua the Messiah locked in a greek-thinking world, imprisoning themselves to a shallow faith riddled with pagan myth and vain philosophy in a 'christology' that is extra-biblical.  That faith may indeed 'save' them from the destruction to come, because the Khesed of Elohim is indeed bigger than the whims and error of men, for those who do know that it is the revealed Son of Elohim and His blood that cleanses, and trust in His resurrection that saves.  But, it is His KHESED that compels us to believe in the first place, and also to OBEY HIM FULLY.  To 'attach' to HIM, and desire to BE LIKE HIM, and TRULY walk HIS HALAKHA, or 'how HE walked THE TORAH'; again, He IS a Rabbi.  The ONLY Rabbi.
The word KHESED is indeed RIFE with layers of meaning.
חסד
Each Hebrew letter, by itself, has layers of 'meaning.'  Each letter is a symbol of a concept.  And each three-letter root is also a symbol of a verbal root concept, out of which derives all the meanings of the words that come from that root.  This word, 'Khesed", which gets translated by most as either kindness or 'mercy', is a root word.  A better understanding of the word is the KJV "lovingkindness", but, like other translators, they were not completely consistent in rendering it that way.  We contend that 'compassion' is the best English rendering of "Khesed," and hope to give our reasons why.
The first letter is the letter 'khet,' and it is the eighth letter in the Hebrew 'alef-bet'.  It is, therefore, the symbol for 'infinity', much like our number 8 is when turned on its side.  This is because the number seven in Hebrew means 'completion of time.'  This letter's name, 'khet', is rooted in 'khai', which means 'life.'  It is made up of two other symbols/letters, the 'resh' and the 'vav', which are a 'head' and a 'nail' or a 'ruler' and a 'righteous man'. So, the first letter in our root has in it the symbol for 'eternal life of a righteous ruler'.  The next letter is the 'samekh', and its name is from 'samakh' which means 'firmly support,' 'lean against,' where we get our phrase 'lay hands on'.  It is almost a homonym to 'same'akh', which means 'happy'.  The symbol is representative of a spiral.  The samekh carries the value of sixty, and the dalet, the last letter in khesed, a value of four, and the resulting 64 is a multiple of 8, or infinity x infinity, hence an extension of infinity, if that is at all possible.
Since the 'samekh' is a spiral, we can see a picture here of a righteous, eternal being bringing life 'down', and he is a 'door.'  There are many, many ways to 'see' this word in these deeper levels, and this does NOT violate the 'plain' meaning of it: 'compassionate kindness', or simply, compassion.
This root word is also the root for the 'fuller' word 'khasid', which means 'devout one', or one devoted passionately to something; in the biblical context, it is passionate devotion to  יהוה .  Many translations render this word as 'saint,' which is entirely wrong linguistically.  The word 'khasid' adds a yod after the samekh, which would give us, 'a righteous, eternal one' [his] hand [on the] [is the] door of life'.  OR, "Eternal life is established through a door."
All of this is very, very interesting, and just enhances the meaning of the word, "compassion, 'loving kindness'.  It is clearly a picture of 'salavation', or eternal life free of sin through the door, Messiah Yeshua.  Changing it for the greek for 'karis' seems suspect, at this point, their having done it so many times.    The translators from Aramaic to Greek seemed to have all but wiped out this word from the text.  That is troubling.
There are many, many verses where the Peshitta and the Greek 'disagree' on this word, and it does somewhat affect the thinking.  Many times 'khesed' is rendered in the greek as 'karis', and so the reader gets too broad a use of 'grace' from the context.  Is it possible this is why the 'grace' of so many seems to 'set them free' from obedience to the simple instructions of the texts?
Some critical verses where karis was used and not a better word for "khesed" are:
Romim 5:15 and Romim 5:20-21
We will render them as they should be:
"If therefore, because of the fall of one [Adam], many died, how much more will the compassion and gift of Elohim, because of one man, Yeshua HaMashi'akh, be increased for many?"
The compassion is the reason, the cause for the gift.  The gift itself is defined a few verses later as the 'forgiveness of sins,' which is 'grace.'
"The introduction of the Torah caused sin to increase, and when sin had increased, compassion became abundant. Just as sin had reigned through death, so compassion shall reign through tzedaka to eternal life by Adoneinu Yeshua HaMashi'akh."
Grace, 'the gift' of the forgiveness of sins did not "abound," COMPASSION did.  What is the difference?  EVERYONE is under His compassion right now, otherwise He'd have already judged the world.  But NOT everyone has reacted to the compassion of His offering Messiah, to receive the free gift of grace, the forgiveness of sins.
So many people operate under the notion that grace is the gift of never having to face the consequences of sin, ever again, and that it does not matter what one does, because G-d has lavished the free gift of his grace on the whole world.  No.  He has bountifully poured out His compassion, which causes Him to wait patiently, hoping that everyone comes to do teshuvah, or 'repentance,' and thereby then receive the gift of His Grace: the forgiveness of sin, and the gift of a clean record before the Creator at the judgment.
The modern teaching on 'grace' is so fraught with misunderstanding that many people think that Elohim never showed/demonstrated the gift of 'grace' before Messiah Yeshua appeared.  They think that the verse in Yokhanan 1 was a monumental shift in G-d, where we read in most translations, 'For the law was given by Moses, but grace and truth came by….'  There is a lot wrong with this little verse in this rendering, and in the application of it by most.  First, most people do not realize this is a very 'Jewish' verse, referencing another very important scripture in the Torah:  the "thirteen attributes" of G-d.  When Moshe desired to know who it was that G-d would send with him, He visited him, picked him up, put him in the cleft of the rock [an allusion to Yeshua], and said, " יהוה , יהוה  , El, merciful and gracious, longsuffering, and abundant in compassion [our word 'khesed'] and truth; keeping compassion unto the thousandth generation; forgiving iniquity and transgression, and sin, and pardoning."  Reader, please understand, this is the Creator describing HIS OWN HEART.  Doing so 2,000 years before Messiah came.  "I am  יהוה , I do not change!"  So, Yokhanan is not saying that suddenly G-d is going to dole out grace to anyone who winks at Him.  He is saying that the deep, affectionate love of the Creator is best demonstrated in His sending His Son.  English translators go so far as to add the word 'but' to further skew the reader's mind, to put grace and truth in contrast to the Torah of Moshe, when NOTHING could be futher from the truth.  And that is exactly how most perceive things, especially given their faulty interpretation of the Book of Romans.  Most good translations of Yokhanan at least show the reader through italics that 'but' was inserted, 'for clarity' they say, though more for inserting doctrine, since 'but' is not in the original text.  But few readers care to look at the meaning without the inserted word.  Fewer still care to check and see if 'karis' is really the proper word here, or to acknowledge that this is a Torah reference in the first place.  And many will not admit that in those 13 Attributes, He is seen as both GRACIOUS [full of grace] and COMPASSIONATE [full of compassion].  In fact, He is seen as the 'guardian of compassion'.  "Notzer Khesed."  This, too, is an allusion to Yeshua, since 'notzer' is the SAME root as "Natzri", meaning, 'from Nazareth.'
It is the overuse and subsequent cheapening of His Grace that has caused mankind not to understand His KHESED, His deep, unfathomable lovingkindness that is expressed in His giving us His Son through death and resurrection.  When one comes to understand even just a little how much the Creator loves them, because He expresses that LOVE and DEVOTION in His son, then one truly receives His 'khen,' BECAUSE of His KHESED.
Khesed, then, is truly the door of the establishment/happiness of life eternal.  When we perceive that, khesed is then stirred in us, and we want to thank Him for it.  We want to show others that door.  We ourselves yearn to give it away, just as He did.
חסד